Attending a conference
Posted 6/13/2022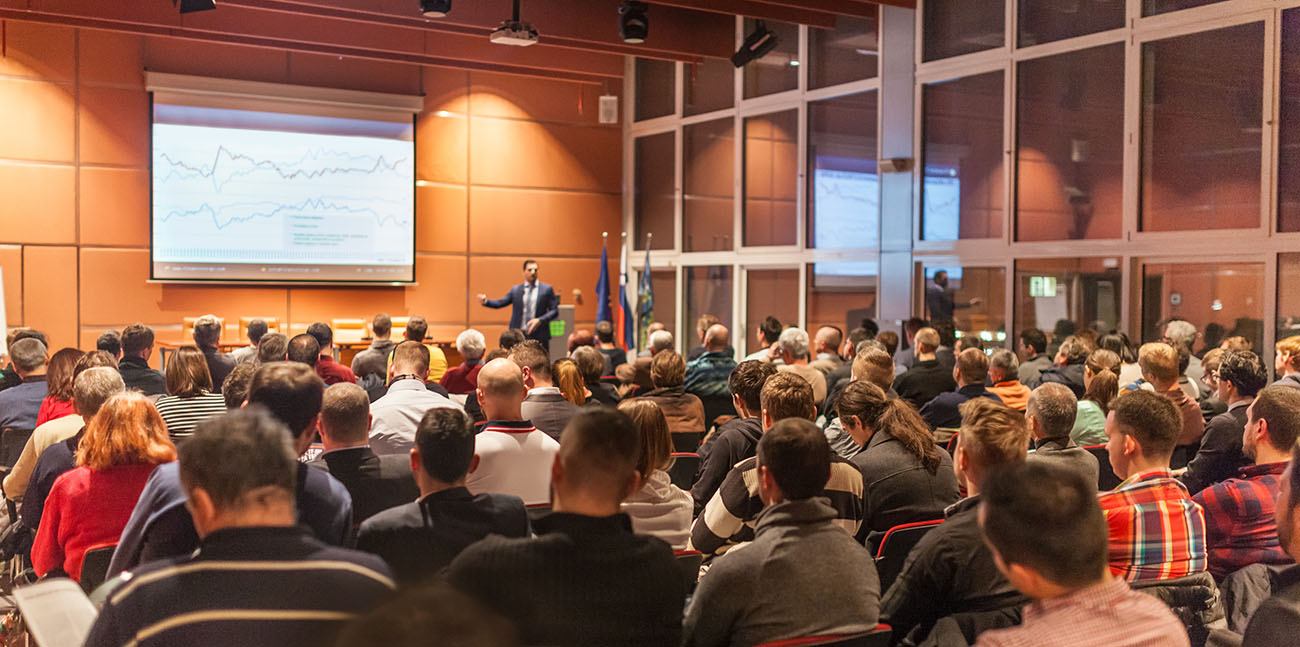 A million people pass through the Moscone Convention Center each year. In the early 2000s, I joined its not-so-elite guest list while attending my first conference. The experience was useful, but I spent the week overwhelmed and underprepared. Here are a few things that would have helped me, in hindsight.
Before
Pre-event planning will help you get the most out of a conference. Think of questions you would like to answer, that might point you towards sessions to attend and people to meet (e.g., "what new approaches are people using to study [my problem]?"). If you have questions for a specific person, consider writing them ahead of time with a query to follow up on at the meeting. The recipient may ponder a little ahead of time and will have some evidence that you have done your homework when they meet you in person.
Big meetings require you to choose from multiple simultaneous presentation sessions. Browse the program and highlight any must-see presentations and events. The bigger the meeting, the more planning is needed beforehand. But you can defer some final decisions to the last minute once you see what topics draw the most interest from others and the physical distances between the session rooms.
Research the meeting dress code before you pack. My attire ranges from suits [engineering meetings] to polo shirts [some earth sciences meetings], and it's awkward to arrive with an outlier wardrobe. It's safest to stay on the more formal side of the dress code. You are unfortunately at risk of not being taken seriously if underdressed, especially if you are an underrepresented minority or woman. Check the conference website or ask your advisor or colleagues for guidance. Meeting rooms are often cold, while outside may be hot, so pack layers to stay comfortable as you transition between spaces.
During
You'll experience a marathon of presentations at the meeting, and it can be hard to keep your focus. When listening to presentations, formulate a question for each speaker. Even if you don't ask it, thinking of a question will help you listen actively and scrutinize the technical content. Study presentation styles as well. What made a presentation memorable? Was the speaker energetic? Organized? Did they focus on a few key messages? Conversely, study the ubiquitous bad presentations so you can avoid their mistakes. Take lots of notes to document your observations.
Outside of the technical sessions, meet and talk with people. Poster sessions are perfect because people are standing alone in front of a poster that advertises their research topic, so find a relevant topic and ask the presenter some questions. Interesting discussions also happen at lunches, receptions, and coffee breaks. If you are extroverted and comfortable introducing yourself, go for it! But if (like me) you are more introverted, you can trail an advisor or senior colleague and let them make introductions.
New acquaintances will almost certainly ask, "what do you work on?" So plan a short (10–20 second) answer, and practice giving it a few times before the meeting. Ask the same of them, and then follow up about their research techniques or something more varied such as where they are from or how they got their current job. Most people enjoy talking about their work or themselves, so ask questions if you feel shy or at a loss for words. Consider bringing and giving out business cards. Most people won't have them, but they are fairly inexpensive and an easy way to help people remember you. How many times have you met someone and then forgotten their name? Wouldn't it have been useful if they had given you a piece of paper listing their name and affiliation, plus a web address where you could learn about their work?
Be willing to improvise if you hear about a session you hadn't considered or get invited to an impromptu dinner. Or, if you are feeling tired, take a break for a few minutes and go for a walk outside. Your pre-meeting plan is a prioritization tool, not a rigid map to follow at all costs.
After
You'll finish the meeting tired and anxious to catch up on work you missed while at the meeting. It's fine to allow some time to recover. But investing a little more time shortly after the meeting will increase the benefit of the connections and ideas you collected.
First, send some quick thank-you notes to anyone who provided valuable advice or resources. And if you offered support to anyone, do it soon. If people know you are courteous and reliable, that's a big advantage professionally.
Second, browse your long list of notes. The talks and conversations hopefully generated many ideas for work to pursue and papers to read. But your enthusiasm for many of the ideas will likely fade quickly. I try to triage my notes into categories like "great idea that I must try soon," or "keep in mind if I get back to this topic someday," or "interesting thought, but a low priority." I keep a scanned copy of my notes and try to peak at them again in a few weeks in case inspiration strikes. But I know that 90% of the ideas are more useful for background knowledge than immediate action, so I don't worry about following up on every thought that seemed exciting during the meeting.
—
The next iteration of my original Moscone-Center conference launches this month. Two decades later, I will stroll into a sea of familiar faces, and my preparations will be intuitive. No single event caused a step-change in my experience, but years of steady effort paid big dividends. So whether you are an overwhelmed first-timer, or slightly more experienced, just aim to learn a few things or meet a few people each day. And take pride that you didn't wear a t-shirt to a meeting full of suits.
Register
Use the following link to register to receive very occasional updates about new offerings on this page. I will not share your information with anyone.